Unconventionally rustic apparel and accessories for the eclectic soul...
Abernathy's specializes in vintage clothing for men and women, handmade jewelry and accessories, antiques and oddities. Visit Abernathy's on the road at car shows, festivals, and celebrations or at the store located at:
Abernathy's
315 E. 2nd St. Davenport, IA
(in between Iowa St. and Pershing Ave.
across from Great River Brewery)
Abernathy's is a great place to find Pinup vintage too! Can't wait to see them at the show!  Check them out on Facebook or their websites via the buttons on the left.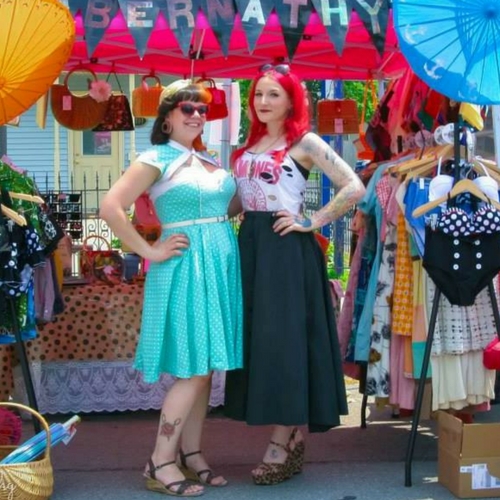 The Chicago Vintage Clothing and Jewelry Show will take place March 8, 3pm to 8pm, March 9, 2019. 10am to 5pm at 5649 N. Sheridan Road, Chicago, IL 60660. St. Andrews Greek Orthodox Church at the corner of Hollywood and N. Sheridan Road. The official website is www.vintageclothingandjewelry.com
The 2018 Vintage Garage dates are April 22, May 20, June 17 , July 15, August 19, September 16, and October 21. There will be 100 vendors offering cool vintage and antique pieces every 3rd Sunday, April to October. Vintage Garage is located at 5051 N. Broadway, Chicago, IL 60640. Hours are 10:00 am to 5:00 pm with a $5 admission. Official website is www.vintagegaragechicago.com.
Chicago Vintage Clothing and Jewelry Show, 5649 N. Sheridan Rd., Chicago, Illinois 60640, United States (US) - Phone: 312-505-6373 Email: hey@vintageclothingandjewelry.com URL: http://www.vintageclothingandjewelry.com/