Chicago Vintage Clothing and Jewelry Show is back for 2019.
A vintage clothing and jewelry event at St. Andrews Greek Orthodox Church at the corner of Hollywood and Sheridan Rd.
For two days only, CVCJ will be PACKED with all things vintage fashion.  See below for photos from the last show!
The 2019 dates are March 8/9 and October 4/5.  Save the date!  For more information about becoming a vendor, visit our sell page and fill out an application today!
New to vintage? Check out "What is vintage?"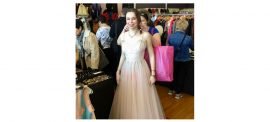 The Chicago Vintage Clothing and Jewelry Show will take place March 8, 3pm to 8pm, March 9, 2019. 10am to 5pm at 5649 N. Sheridan Road, Chicago, IL 60660. St. Andrews Greek Orthodox Church at the corner of Hollywood and N. Sheridan Road. The official website is www.vintageclothingandjewelry.com
Chicago Vintage Clothing and Jewelry Show, 5649 N. Sheridan Rd., Chicago, Illinois 60640, United States (US) - Phone: 312-505-6373 Email: hey@vintageclothingandjewelry.com URL: http://www.vintageclothingandjewelry.com/