Krispyfringe Vintage has Chicago street style down.  Their pieces are wearable and look current but with great vintage quality and style. Check them out at the show March 2nd and 3rd! 
First Name: Kristy 

Business Name: Krispyfringe Vintage

How long?: Over 8 Years 

How'd you move into vintage fashion? Fast fashion has been a rapid growing industry, however, vintage fashion is timeless. Its structure alone tells a story- what decade is it from? Was it functional during that time? Vintage preserves our history and offers a personal touch to our modern styles.

Are you a collector? Yes, we have storage units full of vintage finds if that says anything about our love for the hobby.


What do you collect? 
We collect an assortment of men's and womenswear ranging from the 40's-90's as well as housewares. 
What's a favorite piece you can't sell? A very rare Burray Olsen fringed leather jacket. He designed jackets for 80's bands like Santana and after he died, his designs became one of the most desirable brands in the vintage realm.  
What's your favorite thing to sell?

Dresses 


What sells fastest?

Our eclectic assortment of jewelry at pop-ups & coats/jackets online  


Where are you from?

Michigan 


Do you have a shop online?

Yes, check the link below to our Etsy shop
Are you bringing anything extra special to the show? 

A fun assortment of one-of-a-kind vintage pieces to complement each personality, fit, and style.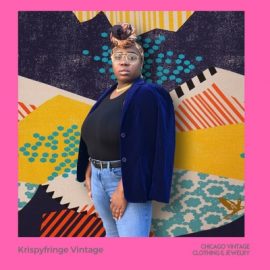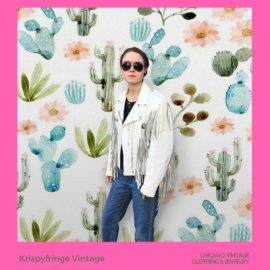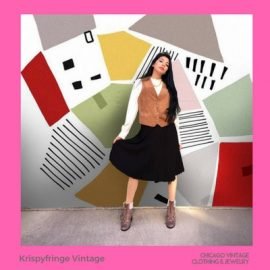 The Chicago Vintage Clothing and Jewelry Show will take place March 1, 3pm to 8pm, March 2, 2019. 10am to 5pm at 5649 N. Sheridan Road, Chicago, IL 60660. St. Andrews Greek Orthodox Church at the corner of Hollywood and N. Sheridan Road. The official website is www.vintageclothingandjewelry.com
The 2018 Vintage Garage dates are April 22, May 20, June 17 , July 15, August 19, September 16, and October 21. There will be 100 vendors offering cool vintage and antique pieces every 3rd Sunday, April to October. Vintage Garage is located at 5051 N. Broadway, Chicago, IL 60640. Hours are 10:00 am to 5:00 pm with a $5 admission. Official website is www.vintagegaragechicago.com.