Hoarder, collector...it's a fine line of distinction.  One of the best and true quotes from true vintage lover. Meet Nancy of North Shore Frugal Fashionista!  Vintage lovers are a special group and she is right up there with the best of us. Meet her and her unique style! 
Business Name:

  

North Shore Frugal Fashionista
How long?:

  

One year in brick-and-mortar store
How'd you move into vintage fashion?:

 

I've always loved vintage and fantasized having my own store. After a few unique jobs (like Discovery Channel) I wanted to have something all my own: I started fashion styling and quickly added vintage to sell in my home. I call myself a savvy stylist with a store.
Are you a collector?:

Hoarder, collector...it's a fine line of distinction.




What do you collect?:

 

Big, bold and badass. Unique & chic for pretty cheap: statement pieces of primarily jewelry, coats, and purses. I also have an exclusive to sell women's new-with-tag European Samples with brands currently from France, London, and Italy. Most are vintage-inspired.





What's a favorite piece you can't sell?:

  

I don't have one! I love them all and can always "borrow" (model) the items. I once sold an Etruscan bracelet at the nail salon!
What's your favorite thing to sell?  

I can't pick just one because I love everything vintage. I also just love selling! I like meeting and getting to know my customers. I am great at identifying their style right away.
What sells fastest?:  

I'd say the jewelry. I'm known for being the clip-on earrings lady.
         Where are you from?:
Originally south suburbs but migrated north side for school and never left.
         Do you have a shop online?:
Yes as well as a shop on Poshmark (@nsff) and social media sites Instagram (#northshorefrugalfashionista) and Facebook.
        Are you bringing anything extra special to the show?  
Yes! The samples will be unique to this show. And they're all only $20! (Sizes vary from XS-L). I'm also       having a liquidation sale on my vintage: all that I bring will be at least 40% off. Please visit my sites to preview.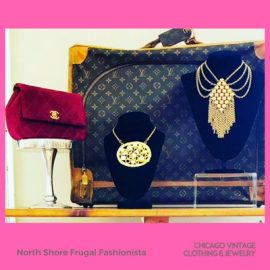 The Chicago Vintage Clothing and Jewelry Show will take place March 1, 3pm to 8pm, March 2, 2019. 10am to 5pm at 5649 N. Sheridan Road, Chicago, IL 60660. St. Andrews Greek Orthodox Church at the corner of Hollywood and N. Sheridan Road. The official website is www.vintageclothingandjewelry.com
The 2018 Vintage Garage dates are April 22, May 20, June 17 , July 15, August 19, September 16, and October 21. There will be 100 vendors offering cool vintage and antique pieces every 3rd Sunday, April to October. Vintage Garage is located at 5051 N. Broadway, Chicago, IL 60640. Hours are 10:00 am to 5:00 pm with a $5 admission. Official website is www.vintagegaragechicago.com.