Joanne of Pink Astilbe Vintage  is a frequent seller at Vintage Garage Chicago  where she brings  jewelry and other vintage and her excellent husband Michael brings his homemade honey in the summer months.
 We are excited to have her at the Chicago Vintage Clothing & Jewelry Show at the end of February.  
Her interest and passion for vintage shines.  We often share great conversion about jewelry and recently Juliana jewelry. Juliana jewelry is beautiful but always unsigned. There are ways the pieces were made that give away their true origin which is actually a company called Delizza & Elster.   Not only did they create beautiful pieces, they also created for other companies as well.  Juliana Jewelry is widely collected and a fascinating subject. 
Research is a great part of vintage.  Learning the history, the designers, the stories makes collecting exciting! Along with the quality, pieces can stand test of time and can still be worn and enjoyed. 
Check out Pink Astilbe on Facebook by clicking the icon to the left!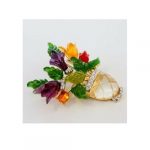 The Chicago Vintage Clothing and Jewelry Show will take place March 8, 3pm to 8pm, March 9, 2019. 10am to 5pm at 5649 N. Sheridan Road, Chicago, IL 60660. St. Andrews Greek Orthodox Church at the corner of Hollywood and N. Sheridan Road. The official website is www.vintageclothingandjewelry.com
Chicago Vintage Clothing and Jewelry Show, 5649 N. Sheridan Rd., Chicago, Illinois 60640, United States (US) - Phone: 312-505-6373 Email: hey@vintageclothingandjewelry.com URL: http://www.vintageclothingandjewelry.com/