Meet Joan from Jyoti by Joan. She's lived a lifetime in the vintage world. Starting as a teen, she loved and wore vintage! Find out more about what she's bringing to the show. Including great vintage cowboy boots, Versace, Lapidus and so much more!
First Name: Joan

Business Name:  Jyoti by Joan

How long?:  Jyoti by Joan for the last 6 months however I had a store in the 1990's.  I have been collecting Vintage my entire life.
How'd you move into vintage fashion? Vintage has been a passion since I was a teenager.
Are you a collector? Yes

What do you collect? Couture (garments and jewelry), leather and fur jackets, hats, purses, belts, original hand sewn silk kimonos, textiles, cowboy boots, ethnic and old pawn jewelry . 
What's a favorite piece you can't sell? Several of my vintage Japanese silk kimonos.  Actually many of my items are difficult for me to let go of!
What's your favorite thing to sell?  High end vintage items from cottage industry artists, ethnic. vintage and vintage couture. 

What sells fastest?  My one-of-a-kind unusual garments/jewelry.

Where are you from? Glencoe Il. originally; I have also lived in Evanston, Arizona, Connecticut, Florida, Virginia and upstate New York.  I currently live in the west loop of Chicago.

Do you have a shop online? Instagram: JyotibyJoan   Website forthcoming: JyotibyJoan
Are you bringing anything extra special to the show?  Yes, quite a few extra special things!  You'll just have to come and see them for yourself!!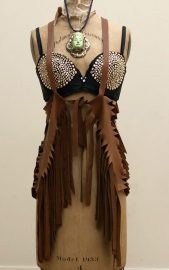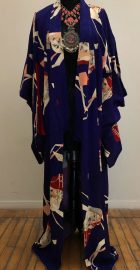 The Chicago Vintage Clothing and Jewelry Show will take place March 1, 3pm to 8pm, March 2, 2019. 10am to 5pm at 5649 N. Sheridan Road, Chicago, IL 60660. St. Andrews Greek Orthodox Church at the corner of Hollywood and N. Sheridan Road. The official website is www.vintageclothingandjewelry.com
The 2018 Vintage Garage dates are April 22, May 20, June 17 , July 15, August 19, September 16, and October 21. There will be 100 vendors offering cool vintage and antique pieces every 3rd Sunday, April to October. Vintage Garage is located at 5051 N. Broadway, Chicago, IL 60640. Hours are 10:00 am to 5:00 pm with a $5 admission. Official website is www.vintagegaragechicago.com.
Designer Vintage & Cowboy boot with Jyoti by Joan