Vintage Martini
 Ken Weber and Greg Kelly are the owners of Vintage Martini in Dallas, Tx. 
Knowing Ken and Greg for quite a while now, it's difficult to explain how great their taste is and how exceptional their pieces really are.  They participate in shows like A Current Affair and Manhattan Vintage.  
I (Ken) received my degree in costume design, but my passion has always been the history of fashion. Upon graduating, I jumped into the film business working on commercials, films and television shows. My resume includes projects ranging from commercials for Pepsi-Cola and MTV to films starring Dennis Hopper, Martin Sheen and Kathy Bates. During this time I began collecting and renting vintage clothing through my rental warehouse.
"Vintage Martini" came about when Greg (an international transportation manager) & I decided to start selling part of the collection for "play money". As addicts are, we couldn't stop buying vintage. We became vintage clothing "dealers". We set up at local flea markets and shows but eventually branched out to other "specialized" shows around the country. At the same time, we started selling online with a small auction company known as EBAY. Vintage clothing websites started gaining notoriety on the internet. That was the next step for us.
VintageMartini.com was created in 1999. With the popularity of the website and the continued growth of our inventory, we knew the next step was opening a brick & mortar location. This came to fruition on December 7, 2007, with the opening of our store in downtown Carrollton, TX. It was difficult in the beginning, but thankfully the Dallas Morning News gave us a full page article that came out on December 26, 2008. We were swamped with customers wanting to buy wonderful vintage. At the same time, people began bringing in their modern, designer items to sell. We couldn't afford to purchase all of the wonderful gems people were bringing in, so we incorporated the consignment portion of our business. The decision to integrate consignment into our business plan has allowed us to grow Vintage Martini to what it is today.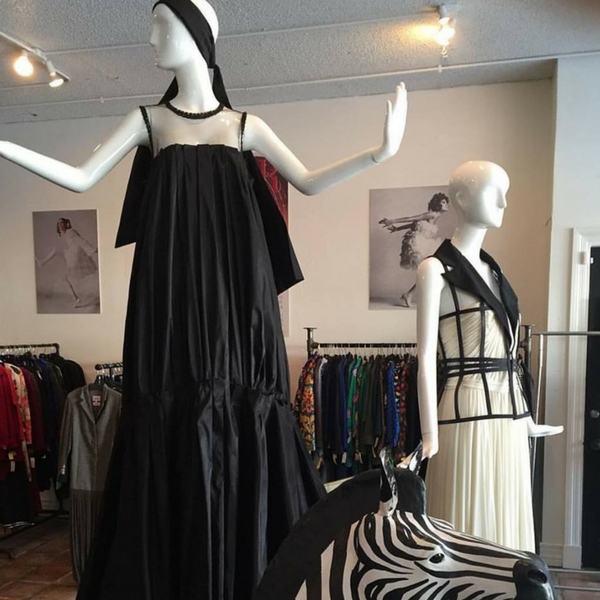 The Chicago Vintage Clothing and Jewelry Show will take place March 1, 3pm to 8pm, March 2, 2019. 10am to 5pm at 5649 N. Sheridan Road, Chicago, IL 60660. St. Andrews Greek Orthodox Church at the corner of Hollywood and N. Sheridan Road. The official website is www.vintageclothingandjewelry.com
The 2018 Vintage Garage dates are April 22, May 20, June 17 , July 15, August 19, September 16, and October 21. There will be 100 vendors offering cool vintage and antique pieces every 3rd Sunday, April to October. Vintage Garage is located at 5051 N. Broadway, Chicago, IL 60640. Hours are 10:00 am to 5:00 pm with a $5 admission. Official website is www.vintagegaragechicago.com.