Wini & I Exquisite Taste
Norine of Wini & I has been a vendor with
Vintage Garage Chicago
since the beginning 7 years ago and was also a part of our inaugural CVCJ show last year. There is NO doubt Norine has some of the best taste in vintage fashion and especially vintage jewelry.  Looks like amazing pieces are coming to this year's show, check her out!  
First Name:

 

Norine

 


Business Name:

Wini & I


How long?:

4 years


How'd you move into vintage fashion?

 I was a wardrobe stylist in the film industry for many years. My favorite projects were period pieces which allowed me to outfit the models in vintage. Moving into selling vintage in recent years seemed like a natural progression as I could marry my styling and visual skills with my love for one of a kind vintage pieces. Another influence was my mother, Wini, an antique dealer with an amazing eye. I got my love for antiques/vintage from her. My shop name pays homage to my mom.
Are you a collector? Yes

What do you collect? I collect one of a kind vintage pieces. I love victorian watch fobs and chains and unique bakelite pieces. 

What's a favorite piece you can't sell? I have a fabulous old bakelite necklace I just can't part with.

What's your favorite thing to sell? Those rare, iconic pieces you seldom run across.

What sells fastest? Anything from the 50s

Where are you from? Chicago

Do you have a shop online? Not yet

Are you bringing anything extra special to the show? An exquisite early 60s Philip gown Hulitar...so Audrey Hepburn!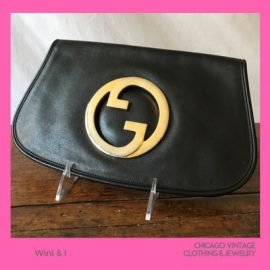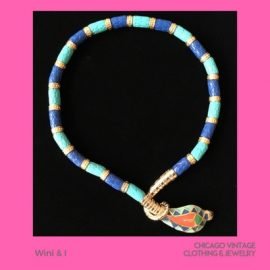 The Chicago Vintage Clothing and Jewelry Show will take place March 1, 3pm to 8pm, March 2, 2019. 10am to 5pm at 5649 N. Sheridan Road, Chicago, IL 60660. St. Andrews Greek Orthodox Church at the corner of Hollywood and N. Sheridan Road. The official website is www.vintageclothingandjewelry.com
The 2018 Vintage Garage dates are April 22, May 20, June 17 , July 15, August 19, September 16, and October 21. There will be 100 vendors offering cool vintage and antique pieces every 3rd Sunday, April to October. Vintage Garage is located at 5051 N. Broadway, Chicago, IL 60640. Hours are 10:00 am to 5:00 pm with a $5 admission. Official website is www.vintagegaragechicago.com.